Howdy! Are y'all the kinduva person who jess dotes on them thar Ohio State Buckeyes?
Is you-ins jest tore up over the fact that they can't beat thum thar Yankee Wolverines from up North?
Well all yuh need tuh dew iztuh set back a spell and injoy thuh pleezin sounds o' thuh Dade Schembehclers!
Theyz thuh kinda fellers who understands how bad a soul can feel after a bad day for the Bucks so theyins
have recorded a whole peck uh tunes about it.
Yull jess wanna grab yo pappy's musket, put it in yo mouth and blow yer brains all over yer cabin walls when you
hears them a sangin and a howlin about how low they feel about the Buckeyes.
We'll put the wurds tuh wunna thar songs and you can see whut we mean!
Y'all be shore to stop and see um when theyz cum tew yer town!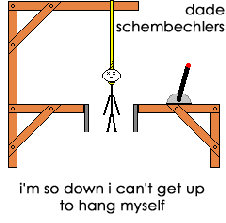 COLONEL MUSTARD IN THE STUDY
WITH A LONG PIECE OF ROPE
FOR HIM TO JUST HANG ME
IS MY GREATEST HOPE
CUZ THEM BUCKEYES, OH MY BUCKEYES
THEY CAN'T BUY A WIN
AND I'M PRAYIN' TO THE GOOD LORD
TO PLEASE DO ME IN
I'M SO DOWN I CAN'T GET UP TO HANG MYSELF
CAN'T GET MY PISTOL TO MY HEAD FROM OFF THE SHELF
I'M SO DOWN I CAN'T GET UP TO HANG MYSELF
HOPE THE BUCS BEAT THEM WOLVERINES SOON
WELL JOHN COOPER HE'S A GOOD MAN
AND I KNOW HE MEANS WELL
BUT SINCE SHAWN SPRING DONE SLIPPED
I'M LIVIN' IN HELL
I SHOT UP MY OWN T.V.
CUZ I'D JUST SEEN
BIAKABUTUKA
RUN UP THREE FOURTEEN
I'M SO DOWN I CAN'T GET UP TO HANG MYSELF
CAN'T GET MY PISTOL TO MY HEAD FROM OFF THE SHELF
I'M SO DOWN I CAN'T GET UP TO HANG MYSELF
HOPE THE BUCS BEAT THEM WOLVERINES SOON
OR I'LL SWING MY THE LIGHT OF THE MOON