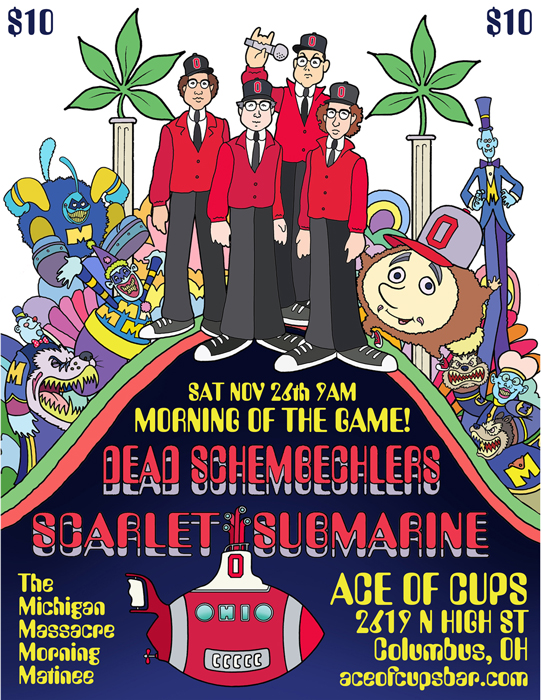 UPDATE: The Hate Michigan Rally is now completely SOLD OUT. The band has added an unprecedented second show!!! The Michigan Massacre Morning Matinee will star the band at 9AM Saturday November 26th. Tickets on sale here.
Recent band press includes Cleveland.com, The Columbus Dispatch, Maize and Go Blue, Pure Grain Audio, and The Bakersfield Californian. Additional press from Joel Oliphint at Columbus Alive, Pat Forde at Yahoo Sports, Dan Wetzel at Yahoo Sports, Scout.com, and Andy Downing at Columbus Alive.
---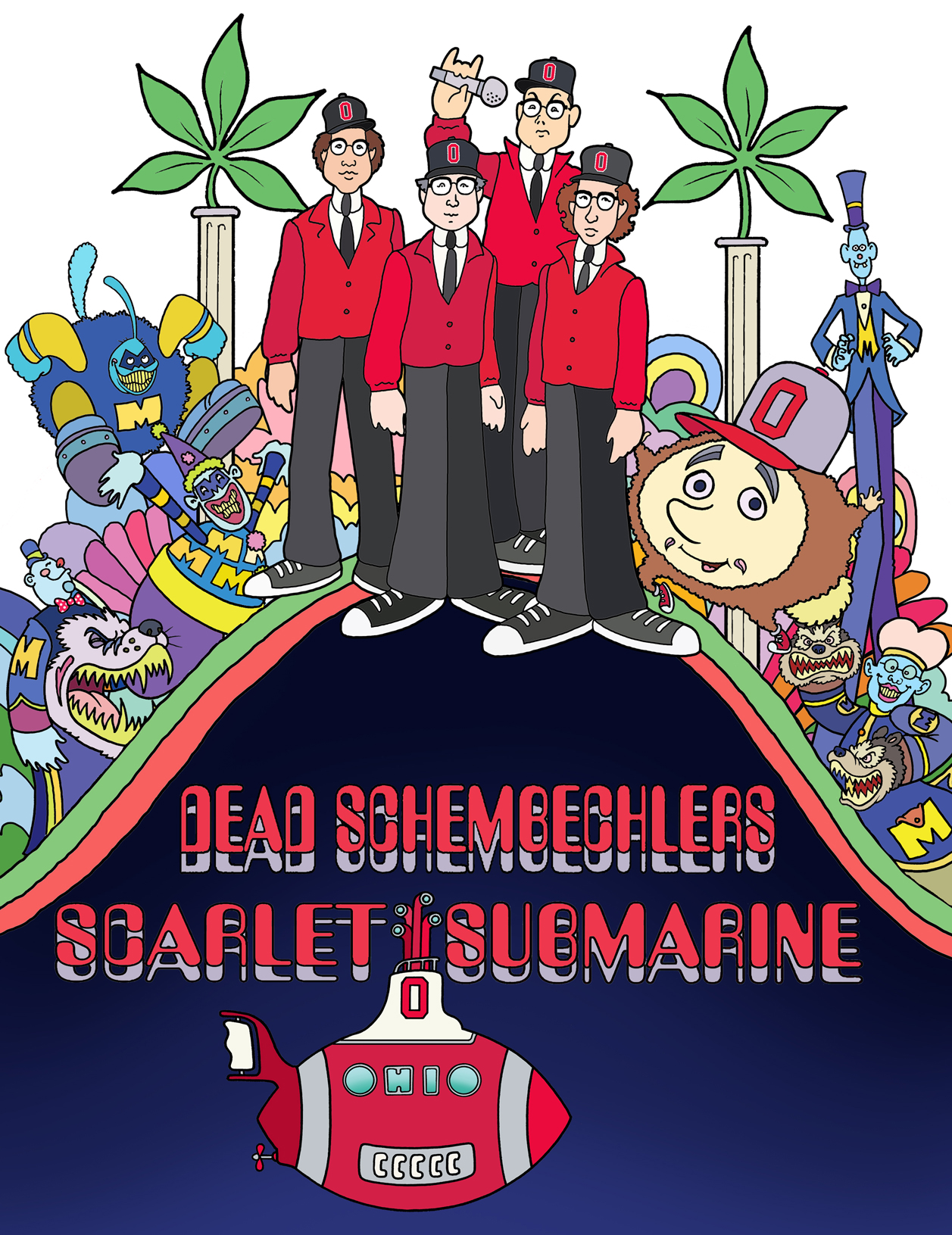 The Dead Schembechlers have announced their first-ever coloring book entitled "Scarlet Submarine." It tells the story of a pigskin paradise called BUCKEYELAND that is overrun by MAIZE AND BLUE WEENIES led by COACH HAIRBALL. A creature called THE O-WHERE MAN escapes the catastrophe in the SCARLET SUBMARINE and enlists the band to reclaim his homeland. The story was written and conceived by lead singer BO BIAFRA with graphic blandishment by ALAN MACBAIN. The book is available now via the band's merch folks at Core Revolt HERE.
Of SCARLET SUBMARINE, singer BO BIAFRA says, "Using a coloring book allows us to speak directly to younger Ohioans and indoctrinate them into the world of Buckeyes football. It also works well with recruiting Michiganites, as none of them has achieved a reading level above the 2nd grade."
It's only $9.99 or get three for just $24 and save 20%. Cheap! Order yours HERE.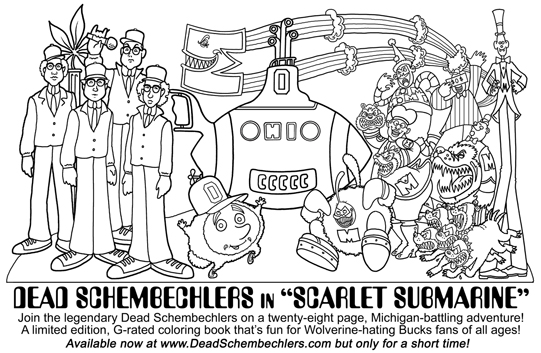 ---

The legendary DEAD SCHEMBECHLERS, who this year celebrate their 25th anniversary of skewering MICHIGAN WOLVERINE football in favor of their beloved OHIO STATE BUCKEYES, have released their latest opus, "HARBAUGH TO HELL" for Halloween 2015.
The cut is available on iTUNES from the their own FLAMING WOLVERINE DEATH RECORDS. It tells the story of the group dragging current Michigan head coach JIM HARBAUGH thru a portal gate beneath Michigan Stadium in Ann Arbor, down to a fiery afterlife of pain. This particular Hell is a Hieronymus Bosch-ian landscape of demons roasting former Michigan head coaches on spits that go "round and round." An accompanying lyric video will be released the same day on YouTube. A portion of the proceeds from the song's iTunes sales will be donated to THE BO SCHEMBECHLER HEART OF A CHAMPION FUND. "We wanna help keep Wolverine fans alive long enough for them to die of embarrassment after we kick their asses across the field again this year," chortled the band members.
Of their mission as a group, singer BO BIAFRA says, "For a quarter of a century, we Dead Schembechlers have taken it upon ourselves to use music to fight the evil, arch-rivals of Ohio State. We will stop at nothing to eradicate them from the Earth. Death to the Wolverine Infidels! It's Harbaugh in Hell on Halloween! Woody Be Praised!"

Cover art for the release was done by ALAN MACBAIN. It was produced by the band at CURRY HOUSE RECORDS in Columbus, Ohio with engineer MIKE LANDOLT. Mastering by BRIAN LUCEY at MAGIC GARDEN in Los Angeles, CA.

The group had planned on a gig this year in Ann Arbor, but no area club would allow them to play due to threats of violence and mayhem. "Looks like no gig this year," said BO BIAFRA. "Maybe we'll just show up and piss on the side of the Michigan Stadium. At least it will make the place smell better."
UPDATE: Since the video launch, the song has exploded thoughout the The Rivalry. The video garnered over 10,000 YouTube views in its first 24-hours. The sporting world has been all over it including Detroit News, Dallas Morning News, CBS Detroit, ESPN Music, Ozone.net, Eleven Warriors, Cleveland Scene, Horror Society, Gregg Henson, Pittsburgh Music Magazine, Pop Sound Off, Pure Rock News, The Sports Bus, Pencilstorm, Bahmagz, and others.
Get it on iTunes here.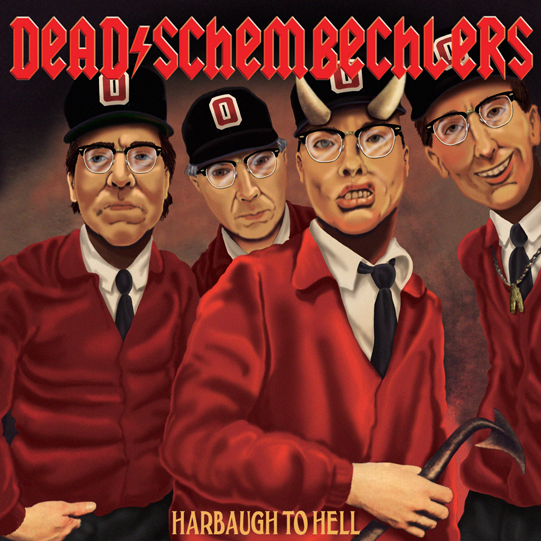 ---

Showing no signs of a four year layoff or the massive amounts of drugs, alcohol and deviated sex they needed to walk upright, the legendary Dead Schembechlers returned to the concert stage with a vengeance for the 2014 Hate Michigan Rally.
Held at Ace of Cups on High Street in Columbus OH, the set featured old favorites like "Bomb Ann Arbor Now" and "Chad Henne is A Motherfucking Joke" as well as a re-worked version of "Ted Ginn Did Everythin'" sung as "Jalin did Everythin'" in honor of current Buckeyes star Jalin Marshall. The lads also introduced new songs including "Brady Hoke is A Big Fat Fuck." See fan video of it here. Other new songs included "Dave Brandon Ain't Got No Job" and "We're Gonna Rip Off Brady Hoke's Head (And Shit Right Down His Neck)." See them here.
Prior to the show, the band was interviewed by Jerrod Smalley of NBC in Cbus. Watch the band perofrming WDGADFTWSOM here.
The band thanks the fans for showing up, paying them a ton of dough and keeping them supplied with cough syrup. They also thank Rob Fortenberry Photography for the amazing images from the show.
The game was a snooze with the Bucks continuing there never-been-defeated streak against the scUM with a 1121-3 victory. Brady Hoke was fired soon afterwards with reports of him cursing the band as his fat, unable-to-leave-under-his-own-power ass was flown off campus by a Sikorsky S-65 helicopter.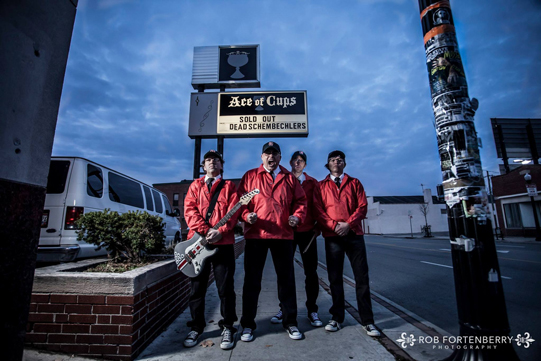 ---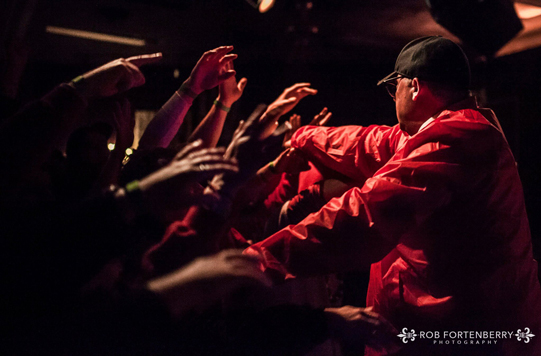 ---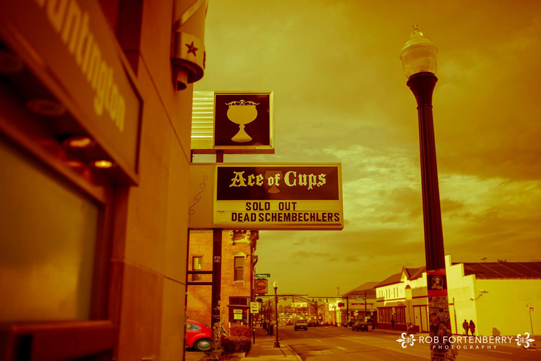 ---


After being missing in action for four years, the legendary Dead Schembechlers have completely sold out The Hate Michigan Rally at Ace of Cups in Columbus OH. Twin Cam will open the show. Doors at 6pm. Twin Cam at 7pm. DS at 8pm sharp!
"We are still the most important Wolverine Hatecore band in history," crowed guitarist Bo Thunders. "Hell, it ain't braggin' if it's true!" Drummer Bo Scabies added, "It will be twice the fun as it will double as Brady Hoke's going away party!" The band celebrated by spending all of the ticket money on cough syrup and vodka.
In the midst of the party, singer Bo Biafra offered a one thousand dollar bounty to the first Ohio State player who brings Michigan coach Brady Hoke a dount, on field, before, during or after the game. "We just know he won't say no," chortled Biafra. "As it will be our last chance to watch him drool all over himself, we wanna make the best of it." Read the story in the Detroit Free Press here.
The band is expected to play many of their smash hits along with a smattering of new material. Hinted new titles include "Brady Hoke is A Big Fat Fuck" and "We're Gonna Rip Off Brady Hoke's Head (And Shit Right Down His Neck)."
Listen to an interview with Bo Biafra by Nuber of radio station The Blitz in Columbus, Ohio here.
Get set for The Game with Dead Schembechlers on iTunes here.
Pick up official band merch like t-shirts, CDs and autographed posters here.
Check out the band's booze and cough syrup filled backstage rider here.
---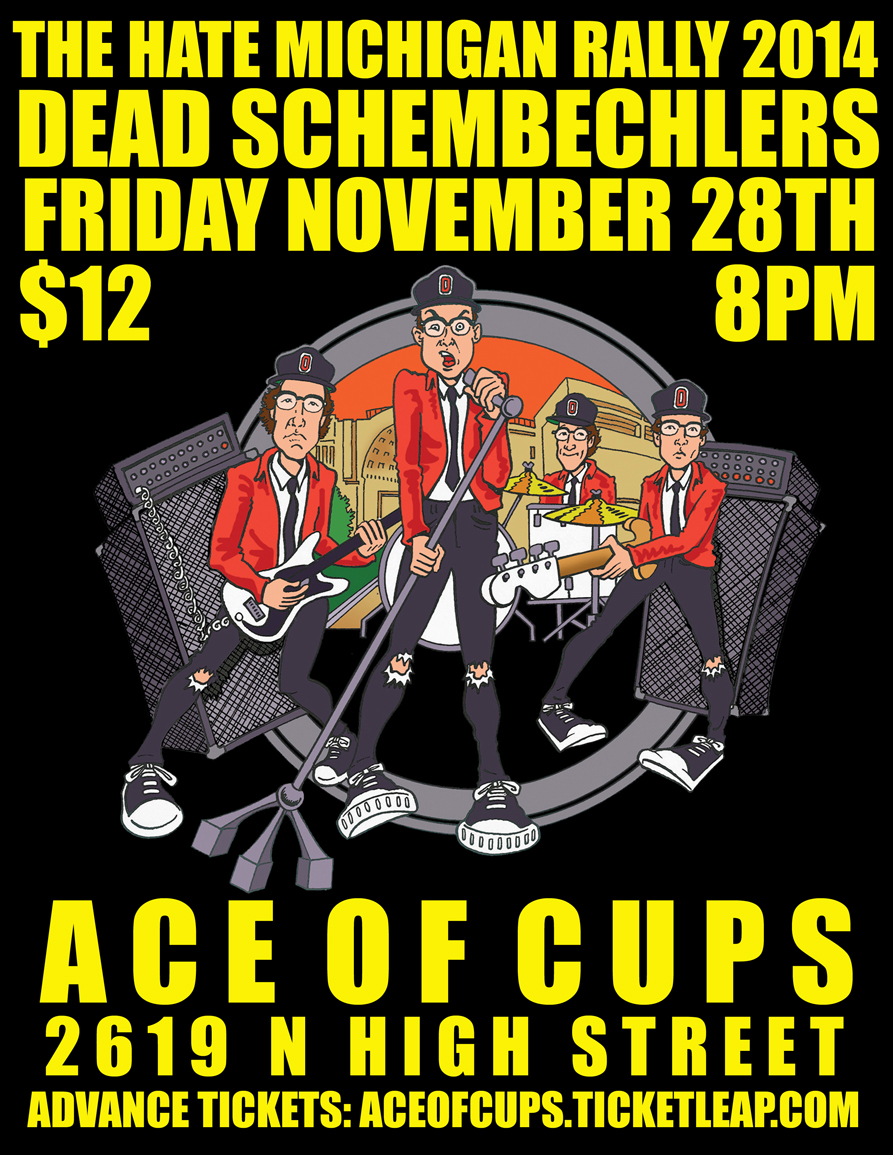 Against all odds after a four-year exhile, the legendary Dead Schembechlers will return to the live performance stage for the 2014 edition of The Hate Michigan Rally on Friday November 28th, 2014 at 8pm.
"Woody Hayes himself appeared to me in the guise of the Sacred Burning Couch of Columbus," said wild-eyed lead singer Bo Biafra. "It is our sacred duty to lead the Buckeyes faithful this year against the unholy scUM infidels of the North. We will succeed or die trying." When asked about future plans beyond this year's rally Biafra said, "I think this is it. The toll this band has taken on all of use cannot be measured. I'm not saying this is our final show, we've made that mistake before, but it's taken four years for this. I'd be surprised if this wasn't the end.
The show will be at notorious punk palace Ace of Cups at 2619 North High Street in Columbus. Tickets are available now here.
---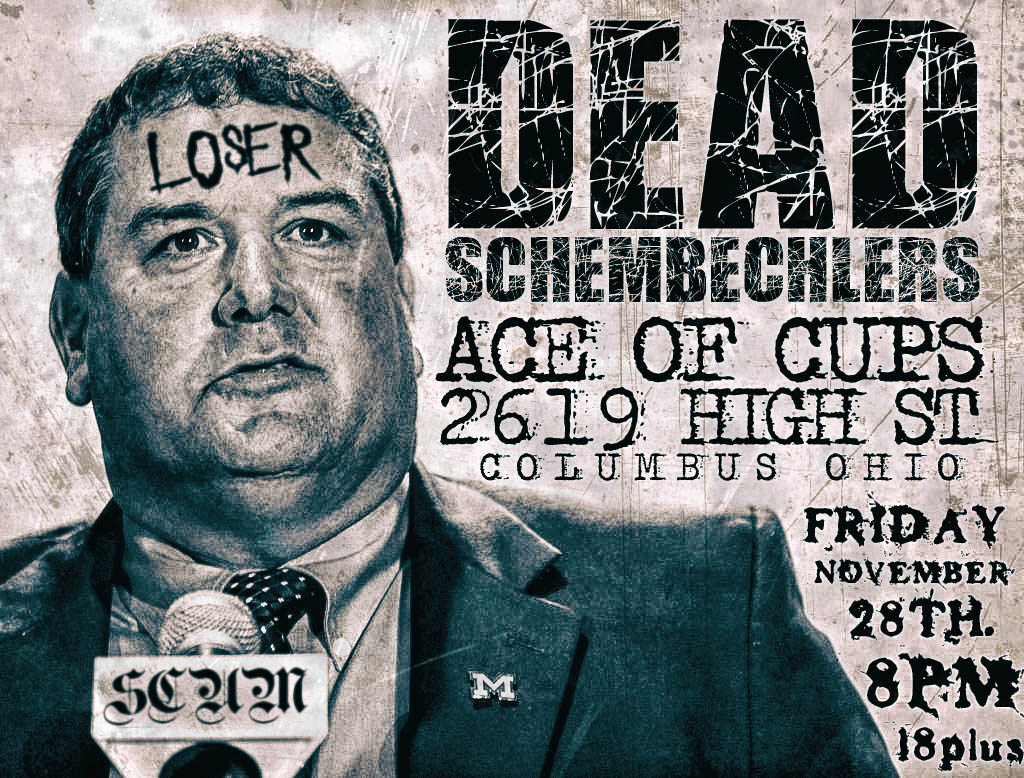 ---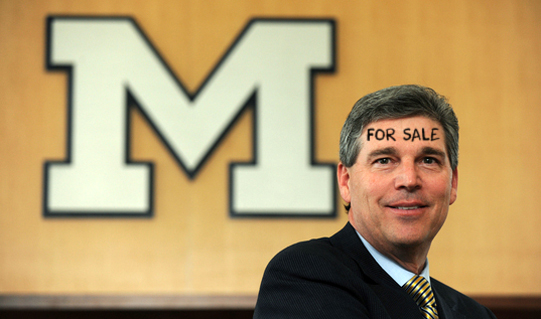 Michigan Athletic Director/Coporate Whore Dave Brandon has driven UofM to new lows of shame and loss
As the 2014 season marches on, signs of a total Michigan collapse, coupled with a rebirth of the legendary Dead Schembechlers, are driving fans of The Rivalry into a frenzy of blood-thirsty hatred.
"They will pay for what they've done to me and all of Woody's chosen people," growled lead singer Bo Biafra. He was freed earlier this year from captivity in Michigan in exchange for five ton of donuts given to Michigan coach Brady Hoke in a deal brokered by the United Nations.
It is these very donuts that would later figure into shocking revelations the Wolverines used them to entice fans to Michigan Stadium, as no one has been turning out to see the weekly drubbings they've received.
"In college sports, A.D. normally stands for 'Athletic Director,' but up at Michigan it obviously means 'Arrogant Douchebag," laughed guitarist Bo Thunders. It was a bald reference to the Wolverine's scUM-tastic Dave Brandon. The former pizza shilling fuckwad has actually managed to do the impossible and lead Michigan's football program lower than the historic ghetto of shame and degredation it fell to during the tenure of coach Rich "The Weasel" Rodriguez. "Brandon is an utter disaster. I can't believe it, but he's actually made it even easier to hate the Wolverines," said Biafra. "The Coke for tickets snafu, his fucking over of the season ticket holders, and his constant sucking of Wall Street's prong in an effort to drive up profits at the expense of the football experience mean we have no choice but to take him down."
With the Buckeyes poised to pass Michigan in both all-time conference wins AND season attendance for the first time, this year's Rivalry game has become the most important in years, but will it be enough for the band to reform? "We must all do our part in the our Holy War against the infidel Wolverine scUM," said Bo Biafra grimly. "I will do whatever Lord Woody calls upon me to do. Until then, I'm just gonna sit back and wonder why Les Miles was never hired to coach Michigan. Maybe Gary Moeller can tell me something about it. I'll look for he and his wife down at the bar."
UPDATE: On Friday October 31st, Dave Brandon was fired by Michigan. Too fucking bad for him, the scUM sucking weanie. This will not stop the band. As a matter of fact, they will now redbouble their efforts to assault Michigan.
---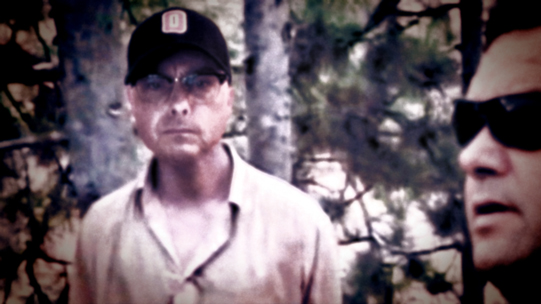 Bo Biafra as he was recovered in a forest near Toledo. Michigan coach Brady Hoke believed in foreground.
URGENT: Dead Schembechlers lead singer Bo Biafra is now free after being detained at the Camp Gitmoeller prison camp on the Upper Peninsula of Michigan since 2012.
Early reports indicate that Biafra was recovered in exchange for five tons of donuts accepted by Michigan football coach Brady Hoke on June 6th, 2014 which coincided with National Donut Day. There are no further reports on Biafra's condition at this time.
No other details are currently available.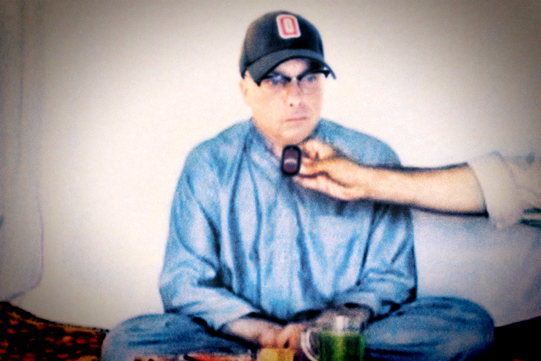 ---

On the eve of the Wolverines appearance against Kansas State in the Buffalo Wings Bowl in Arizona, the Dead Schembechlers have released a video skewering Michigan, their graduates, and that round mound of coaching Brady Hoke.
"Leave it to Brady Hoke to get himself in a bowl game named after food," chortled drummer Bo Scabies.
Rumors abound that the text for the video was written by band singer Bo Biafra, his writings smuggled out of Camp GitMoeller on the U.P. by guards bribed to shove notes in capsules up their asses.
Entitled "Ich Bin Ein Wolverine," the video shows the lunatic ravings of a frustrated Michigan fan looking forward to a national ass whooping in the bowl contest. It is part two of the "Why We Fight the Wolverines" film series that began with the band's "Bomb Ann Arbor Now" which recently crossed the 200,000 view mark on YouTube.
---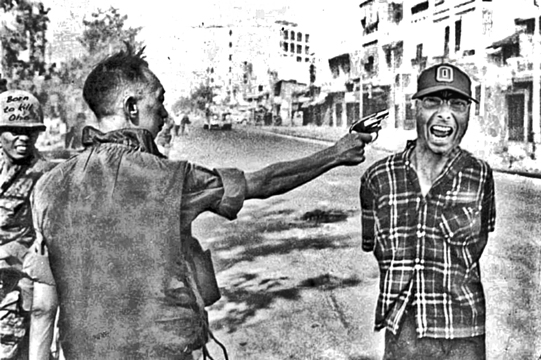 This chilling image purports to show the execution of Bo Biafra outside The Big House in Ann Arbor, MI
The Buckeyes held onto the longest winning streak in the history of sports at 109-0 after soundly thrashing the Michigan Wolverines by a score of 433-3. ABC Sports, using CGI and doctored game footage, showed a much closer score on television.
The highlight of the blow out was Ohio State's Marcus Hall leaving the field after some high-spirited, on field, high-jinks. He flashed "We're Number One" to some Bucks fans in the stands and was immediately pounced upon by members of the Mainstream Michigan Media who denounced him for some imagined obscenity. When asked for comment regarding this following the contest, band guitarist Bo Thunders vomited a bottle of Ripple on a reporter and passed out. Bassist Bo Scabies then sniped at the reporter with a zip gun.
The game was played under a cloud as, shortly before kick off, The International Wolverine Conspiracy released a photograph purporting to show the execution of band singer Bo Biafra on a street near The Big House. The picture shows Biafra yelling in defiance as a New Wolverine Order intelligence officer raises a pistol to his head and a Michigan militiaman, his helmet adorned with the words "Born to Kill Ohio," looks on with glee. The report of death cannot be confirmed.
The Bucks now move on to the Big Ten Championship Game while the future of the band continues to remain in doubt with the unknown status of Bo Biafra.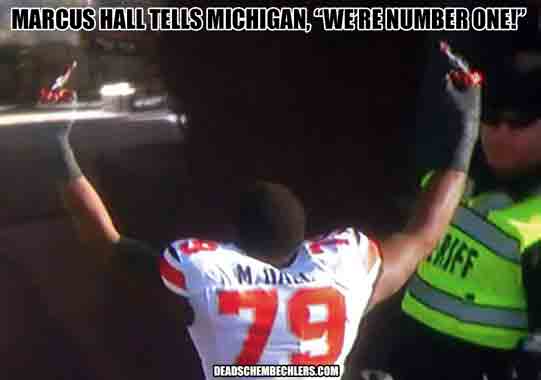 ---


L to R: Camp GitMoeller, Kerry comments on Hoke's penis size, OSU copter downed in Michigan.
Hate Week 2013 finds the Buckeyes on a triumphant march over a road of NCAA bones towards an undefeated season. However, a dark cloud hovers over any chance at unbridled joy as Dead Schembechler lead singer Bo Biafra continues to rot in a Wolverine gulag on Michigan's Upper Peninsula.

Biafra was captured last year and spirited away to The Moeller Re-Education Facility, aka "Camp GitMoeller." Since then, rumors of beatings and inhuman torture have surfaced. This week, US Secretary of State John Kerry brokered a deal with the Michigan government to reign in their nuclear program but there was no mention of Bo Biafra's status. A #SaveBoBiafra campaign to pressure the @JohnKerry account on Twitter has thus far been unsuccessful.
An independent effort by Ohio State Air National Guard helicopters was scuttled when mechanical difficulties caused a crash southwest of Lewiston, Michigan. Four crew members were injured and flown back to Ohio.
Meanwhile, a despondent Dead Schembechlers fanbase faces another year without a Hate Michgian Rally. Guitarist Bo Thunders had no comment when found face down recently at the Buckeye Hall of Fame Grill after downing a high ball glass of turpentine. With no band news, press activity has been low. Backstabbing blogger Jeff Hassler attacks the band here. Check out another take on the band here.
Download Dead Schembechlers music and ringtones from iTunes here. You can get official band merch including t-shirts, CDs and autographed posters here.
---


ABOVE: X marks the spot of Camp GitMoeller. BELOW: Computer graphic of camp's front gate.
For the first time in decades, a Buckeyes season has opened without hope of the Dead Schembechlers leading the charge, due to the kidnapping and assumed death of lead singer Bo Biafra by scUM forces. A gloom hung over the team, which led to a sluggish start in their 40-20 victory over Buffalo. However, there is hope Biafra lives.
Unconfirmed reports from OSU partisans operating in the Upper Peninsula state that last season Biafra was the HVT, or "high value target," spirited into Michigan detention center The Moeller Re-Education Facility. It's named for former Wolverines coach Gary Moeller and is generally known by its nickname Camp GitMoeller.
It is located on the shores of Horseshoe Bay near St. Ignace, Michigan in what is allegedly Federally protected woodland, but in actuality is a Soviet-style gulag where Ohio State fans are tortured and brain washed. Inmates who have escaped describe "enchanced interrogation" techniques including gator-boarding (Gatorade being poured into breathing passages), having "The Victors" played at ear bleeding volumes, and forced viewings of Bo Schembechler halftime speeches. Others describe having original Woody Hayes playbooks torn up page by page and flushed down the toilet. The camp's motto is "Re-Education Thru Wolverine Labor."
No photos of the facility exist, the only images being computer generated from escapee descriptions. Aerial recon is also unavailable as the area is heavily patrolled by surplus World War II German Me-109s flown by the Michigan Air National Guard out of nearby Cheboygan, Michigan.
When asked for comment, guitarist Bo Thunders said, "We can't confirm or deny anything. We just don't know. Without him we have no future. No future."
Does Biafra, against all odds, live?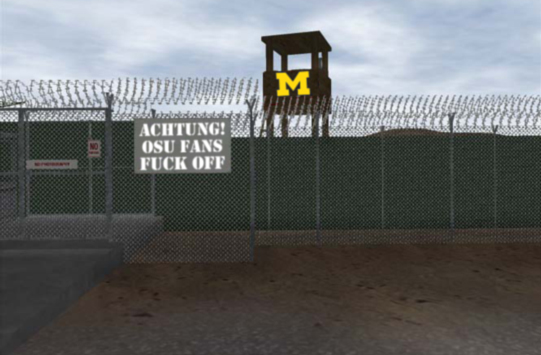 ---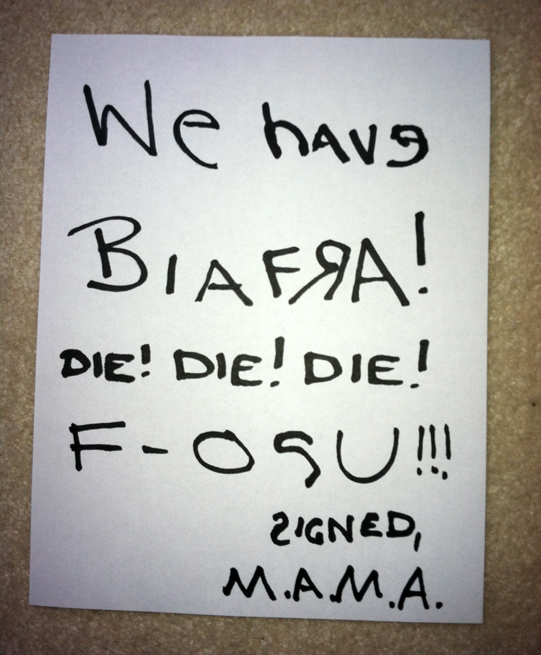 This note tells the tale of the kidnapping of Dead Schembechlers lead singer Bo Biafra. His whereabouts unknown.
The Buckeyes 2012 season began with a sense of hope amongst Dead Schembechlers band members. They believed the Buckeyes Nation would follow their example of scorning national titles to return to a more pure hatred of Michigan. A show and new music were announced. All seemed well with the world.
However, soon after their announcements, all plans were cancelled amidst rumors of death threats and turmoil. A silence fell over the group with a trickle of Facebook posts and Tweets that slowed to a stop from group leader Bo Biafra.
The mystery of his silence was silenced into silence on the eve of the 2012 contest between the Bucks and scUM with the discovery of a kidnapping note outside of Biafra's compound in the maze of sewers beneath Columbus, OH. Drummer Bo Scabies explains, "At first we thought nothing of his disappearance. He often vanishes for weeks at a time and usually opens up with automatic weaponry when we physically try to reach him. But with the arrival of Hate Week and still no Bo, we went looking and found the note."
The accursed piece of correspondence reads, "We have Biafra. Die! Die! Die! F-OSU. Signed, M.A.M.A." The mentally deficient, child-like handwriting and misspellings are the tell-tale signs of typical Michigan graduates. The acronym signature at the end is believed to be from a recently detected militia splinter group of the New Wolverine Order called The Michigan Alumni Musical Army.
"He is taken. Our intelligence reports point to a gulag somewhere in the Upper Peninsuala but we can't be sure. There are unconfirmed reports that he's been tortured, killed, and dropped into Lake Superior. Without him, there is no Dead Schembechlers. Without the Dead Schembechlers, nothing stands between Ohio and a blue and maize annihilation. Final doom may be at hand. Pray to Woody. Pray to Him."
MERCH & MUSIC: Get the band on iTunes here, hit 'em on Facebook here, MySpace here. To purchase CDs, t-shirts and autographed posters get official band merch here.
---

L to R: Ohio Air Natl Guard at Barton Hills MI. scUM refugees in Waldron MI. Michgan Navy ship sinks at Luna Point MI.
In yet another shocking twist to the 2011 season, the entire national television audience believed they saw the Wolverines win for the first time in the history of The Rivalry while the truth of the matter is that the Buckeyes were victorious 186-3.
Meanwhile, on site at the game inside of The Big (Shit) House in Ann Arbor, pro-Wolverine provocateurs in hazmat suits sprayed the crowd with some kind of mind altering drugs while what is believed to be the same substance was pumped in through air vents. Even longtime Bucks fan, TV star Drew Carey, was not immune. He tweeted during the game, "Up is down. Down is up. World crumbling...dizzy" as he was overcome by the noxious gas in the air. His current condition is unknown.
While crowing about the Bucks win, Dead Schembechlers lead singer Bo Biafra was also disappointed that many Bucks fans believe that the Wolverines won saying, "The Buckeyes Nation fails to put its trust in Woody. It was abandonment of Buckeye purity in the singleminded pursuit of Michigan defeat that has brought so much woe upon us. This is just a test by Woody to discover who the true believers are. We must praise His almighty wrath. Michigan has never defeated the Buckeyes...and they never will"
The game signal was intercepted by trucks belonging to movie titans Industrial Light and Magic who then manipulated the game footage using advanced CGI (computer generated image) technology to show the false Wolverine win. Ohio paramilitary units were unsuccessful in sorties made to attack the vehicles and shut them down.
Outside of the game, fighting was fierce throughout the border region. Ohio Air National Guard divebombers hit targets around Ann Arbor including a muntions depot in Barton Hills, MI. Several Michigan Navy ships were sunk off of Luna Point, MI and armored incursions by Ohio forces near Waldron, MI sent thousands of refugees streaming from the area. Casualty numbers are still unknown on both sides.
---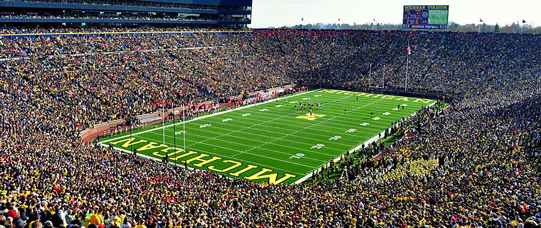 The Buckeys return to The Big Shit House with the odds stacked against them.
"The 2011 Buckeyes season has been an unmitigated disaster," says band leader Bo Biafra. "As I have predicted over the last several years, the Buckeyes Nation is being punished for the sin of worshipping the false idol of national titles when the calling of the true believer is the defeat of Michgian. It was foretold thru me by Woody himself. Praise Him!"
The Scandal, the departure of Tressel, the trials and tribulation of a new coach. The list of hardships has been long. Added to that are the woes of the Dead Schembechlers. The loss of the master tapes of their rock opera about the scandal entitled "Jimmy," the placement in rehab of guitarist Bo Thunders which caused the abandonment of plans to barnstorm outside of Michigan Stadium before the game.
"Because of the disarray the band and the fans are in now, the time is ripe for the Wolverines to attempt to rig the national TV broadcast to appear that Michigan is beating Ohio State," claimed Biafra. "Since the return of our band they haven't dreamed of trying this as they had regularly done in the past, but with the state of things as they are, they may try to go for it."
Biafra plans to Tweet the actual game as it happens from an undisclosed location while remaining in direct contact with pro-Ohio agents in the stands at Michigan Stadium. "They'll be wearing gas masks and hazmat suits to protect them any mind altering chemicals sprayed on the crowd to make people believe they're seeing a Michigan win," says Biafra. " You can follow him on Twitter here.
GAMEDAY UPDATES: Reports are widespread of large vechicles belonging to Industrial Light and Magic parked nearby Michigan Stadium, camoflaged and under heavy guard by the Michigan National Guard. The company, run by George Lucas of Star Wars fame, is the leader in CGI film technology. Is it they who will intercept the TV transmission of the The Game to attempt to make it look like a Michigan victory? There are also reports along the border of sporadic rocket and mortar fire. Michigan partisan groups have been dynamiting bridges to inhibit Ohio State fans from crossing North for The Game.
MEDIA UPDATES: Bo Biafra sounds off in the Columbus Dispatch on Wolverine influence at the Ohio Bureau of Motor Vehicles. Read the chilling story here. Check out an interview with Bo Biafra on the eve of The Game with Beyond Sports here. Those Buckeye loving kids at ElvenWarrior.com sound off on their fave Dead Schembechlers tunes here. Michigan fans vent their hatred for the band and Biafra himself here.
MERCH & MUSIC: Get the band on iTunes here, hit 'em on Facebook here, MySpace here. To purchase CDs, t-shirts and autographed posters get official band merch here.
---

Dead Schembehclers launch their first ever ringtones for Iphones with these classic titles.
In one of the few bright notes in the dismal 2011 season for the Bucks, the first ever Dead Schembechlers ringtones are now available for iPhones. Use your phone to access iTunes and take your choice of "I Hate Michigan," "Buckeye Bop" or "O-H-I-O."
Of course, you can get the entire slate of Dead Schembechlers tunes on iTunes here.
---


Cough syrup, hookers dressed as Michigan cheerleaders and booze. Are they killing Bo Thunders or keeping him alive?
The star crossed Buckeyes season of 2011 received another crushing blow with word that Dead Schembechlers guitarist Bo Thuders was placed into a unnamed rehab program by his family. While he has been known to dabble in every liquid and chemical known to man, his main interests have always been cough syrup and booze. It is also believed that his penchant for hookers dressed in Michigan cheerleading garb was also being addressed.
"It's an outrage," said singer Bo Biafra. "It's believed by many that Bo Thunders actually OD'd years ago but thanks to the constant flow of chemicals thru his nervous system his hands still strum and form guitar chords."
Thunders' behavior became more erratic than usual after the resignation of Jim Tressel. It was during a blackout period that he lost the master tapes for what would have been the release of the group's punk rock mini opera about the Tressel scandal entitled "Jimmy." He claims that he left the tapes on the subway which sounds plausible until you realize that Columbus doesn't have a subway.
"We can't let him stay in there," said drummer Bo Scabies. "We'll either file a legal motion or we'll just dynamite the fucking lobby and than walk him out to a bar. The facility can do this the easy way or the hard way. It's all the same to us."
However, an escape at this late date would not be enough to save the season for the band. Any and all appearances have been cancelled.
---


The true story of the Tressel saga will be told by the band in the form of a rock opera entitled "Jimmy"
The Dead Schembechlers, who had seemed on the edge of retirement, have been once again called upon by the Buckeyes Nation to use their music to rally a shaken populace and tell the true story of a horrible crime committed against Ohio State.
"Plans are still sketchy but we are trying to get the band together this Fall to record the world's first ever mini-punk-rock-sports-opera that will be loosely based on the events that led to the departure of Jim Tressel. It's the story of a coach who is deaf, dumb and blind to the danger around him and will be entitled 'Jimmy.'"
The opera is seen as one piece of music with more than a dozen movements with each lasting well under a minute so the entire opus should clock in at no more than several minutes. Working titles of the song sections include, "A Sick One About Some Foul Play," "Jimmy, He Can't Hear You," "Wizard of Pigskin," "Song of The Rivalry," "Wake Me Up When The Season's Here," "The Short Trial" and "Outside the Shoe."
Several music journalists have pointed out that some of the material seems oddly reminiscent of "A Quick One While He's Away" and "Tommy" from The Who as well as Green Day's "American Idiot" and Pink Floyd's "The Wall" but Biafra dismisses these comparisons. "It is a tribute to the musical genius of the Dead Schembechlers that our creations reverberate thru the ages so strongly that they actually influence work that was done decades before we ever existed. It is the Will of Woody. Praise Him."
It appears that if the band can regroup, they will record sometime this Summer at Mike's Curry House Studio in Columbus, OH again working with super-producer Mike Landolt.
---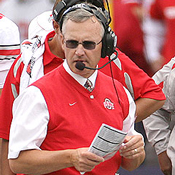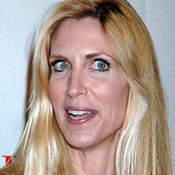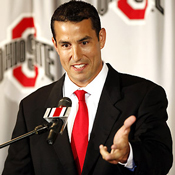 Jim Tressel forced out after being set up by (L) NWO Chief Ann Coulter (C) as Luke Fickell takes the reigns (R)
In their greatest victory over the Buckeyes since their inception, the New Wolverine Order succesfully orchestrated the end of Jim Tressel's coaching career at Ohio State. It is a disaster of epic proportion and was foretold by Woody Hayes thru the band.
"For years I have served as a holy vessel for Woody to speak thru and his message has been one of impending doom. His word has become manifest. We were warned," lamented Bo Biafra. "He spoke of the false idol worship of National Championships replacing the pure pursuit of Michigan hating and that the Buckeyes Nation would be punished for its sins. We must praise his righteous anger."
The departure of Tressel was concocted by none other than the leader of the New Wolverine Order, Michigan law graduate, Ann Coulter. It was she that reached out to Sports Illustrated to perform their hatchet job on The Vest and his players. "It certainly appears that a handful of well meaning lads may have been set up to appear they were taking illicit favors when in fact they were doing nothing more then trying to raise funds for starving children and sick nuns around Ohio," explained Biafra. "The whole thing is a misunderstanding blown out of proportion." Guitarist Bo Thunders continued, "The scUM can't beat us on the field so they resort to this. The Mainstream Michigan Media working in alliance with the International Wolverine Conspiracy to frame innocent players guilty of nothing more than a few high-spirited, youthful indiscrestions." When asked about alleagations of Golden Pants charms exchanged for marijuana he said, "That was nothing more than boys with glaucoma trying to overcome a handicap. All easily explainable behavior. It's amazing they played so well with apparently damaged vision."
The Fickle Finger of Fate has fingered Luke Fickell as the new OSU coach.
---


The Weasel sucks towel and horriffic loss (L) The pile of shit (C) Meet the new scUM same as the old scUM (R)
When Rich Rodriguez was hired, the Dead Schembechlers proclaimed that his tenure would be just "Three Seasons and A Cloud of Dust." Their proclomation has come to pass as Dick Rod, after the most disasterous run of any coach in scUM history, has been fired and replaced by soon-to-wish-his-sorry-fat-fucking-ass-had-stayed-elsewhere, Brady Hoke.
"The Weasel set records for losses, points given up, no bowls and virtually every other yardstick that failure could be measured by as a coach," chortled singer Bo Biafra. "The scUM fans saw him finally get into a bowl game only to have a record set for the biggest bowl loss in Michigan history. We said he would go three seasons and out and he did. From the moment we released the album 'Rodriguez to Ruin' he was doomed. This is our greatest victory yet over the scUM!"
Speculation had been that Ohio born turncoat and former Michiganite Jim Harbaugh would take the coaching position but he did not. "He always said it was his dream job," said drummer Bo Scabies. "However, the Michigan program is so fucked up after The Weasel that Harbaugh is too much of a fucking pussy to try to fix it. It proves that he is nothing more then a cowardly wretch with no backbone and a yellow streak a mile wide."
The new scUM coach will be former Michgian assistant coach Brady Hoke. "They've hired a guy who's name rhymes with 'joke,' 'broke' and 'choke,'" laughed Biafra. "Songwriting for this fuckwad will be too easy. The 'Brady Bunch of Fucking Losers!' I like that." The band has not stated solid plans for 2011 but there are rumors of a new album and a Hate Michigan Rally...in Ann Arbor.
---


Ohio Air National Guard Stuka crew between missions (L) Michigan zeppelin burns near Toledo (C) scUM reugees (R)
Like General Custer at the Little Big Horn versus the Sioux, Rich "The Weasel" Rodriguez's last stand against the Buckeyes ended in blood, shame and horrifying loss as the gallant lads of tOSU defeated the Wolverines by a score of 665-3.
At his postgame speech to his team, Dick Rod curled himself into a ball, rolled around on the floor and screamed, "MOMMY! MOMMY!" as his players contemplated their futures as pizza delivery men, urinal cleaners and homeless vagrants.
The band watched the game on a black and white, battery operated portable television from the parking lot of the White Castle on High Street where they feasted in between bouts of oral sex received from the mothers of Michigan players who were paid off with crack rocks.
"This is what livin' is all about," sighed a contented Bo Thunders as he simultaeously chomped a White Castle Double Cheeseburger, snorted a line of Drano, quaffed a bottle of rubbing alcohol and guided the head of a Michigan player mother down to his lap as she smiled a toothless grin while the game played in the background.
---


Dead Schembechlers in action at the 2011 Hate Michigan Rally. Photos by Brian Babin.
More than 1000 pigskin crazed Buckeyes fans packed Skully's Music Diner on November 26, 2010 in Columbus, OH to witness the return of the legendary Dead Schembechlers as they simultaneously celebrated their 20th Anniversary and the impending firing of Rich "The Weasel" Rodriguez.
The band had begun the day with a Big Room in studio, live broadcast with Brian Phillips on CD-101 radio. You can hear part one here and part two here.
"We are here tonight to pay tribute to...us," exclaimed cough syrup buzzed frontman Bo Biafra who began the anniversary show wrapped in a Ohio flag and ended it soaked in sweat, blood and Robitussin Ac. The crowd continually surged to the stage in a frenzy of scUM hatred with over three dozen being treated for minor injuries. No exact figures on arrests however police outside Skully's were on high alert all night.
The set list consisted of old stalwarts and more recent material including some songs that had never been performed live by the band before. The full set list is as follows with premiere peformances marked by an asterik: Dead Schembechlers, O-H-I-O, Bomb Ann Arbor Now, I Hate Michigan (3x), M Means Moron, You Lost to Appalachian State, Rodriguez is A Weasel, Rich Rodriguez Can Suck My Dick, I Hate Michigan (3x), Michigan Stadium is A Pile of Shit, Ann Arbor Girls Are Dirty Whores, I'm Not Gay But I Wanna Fuck Brutus Buckeye, I Hate Michgian (3x), I'm So Bored with the S.E.C., U Suck Cock, Chad Henne is A Motherfucking Joke, Wide Left: The Ballad of Mike Lantry, Ted Ginn Did Everythin', I Hate Michgian (3x), Muck Fichigan, I Wipe My Ass with Wolverine Fur, Fuck the Wolverines (*), Hey Fuck Dick Rod, Dead Schembechlers Reprise. Encore: Stukas Over 23, Buckeye Bop, The Ann Arbor Chainsaw Massacre Christmas Song (*), We Don't Give A Damn for the Whole State of Michigan.
---
***HERE IS THE LATEST HATE MICHIGAN WEEK INFORMATION***
TICKETS: The 2010 Hate Michgian Rally is this Friday at Skully's Music Diner at 1151 North High Street in Columbus! Alpha Racetrack will open the show and ticket sales are already thru the roof! Doors will open at 7pm. Music starts right after 9pm. Tickets are $12 in advance and $15 day of show. Tickets are available at Magnolia Thunderpussy, Used Kids and Ace in the Hole. Buy online via ticketweb.com by clicking here.
CHARITIES: Portions of the proceeds will once again be donated to the Bo Schembechler Heart of A Champion Fund. The band is also proud to donate portions of the proceeds to the Andyman Fund and to the Stefanie Spielman Fund for Breast Cancer Research. "Woody has spoken to me in the guise of the Sacred Burning Couch and it is His will that Wolverines be kept healthy until they may die by our hand so we must work to keep both friend and foe alive," explained Biafra. "So much love comes out of so much Hate. Only Lord Woody could work something so mystical."
PRESS: The return of Dead Schembechlers has already garnered dozens of mentions in the press throughout the country including: Columbus Dispatch, Detroit Free Press, The Other Paper, Metromix, Milwaukee Journal Sentinel, Pat Forde of ESPN, Cincinnati Enquirer, Columbus Alive and this Associated Press mention that has run in numerous outlets around the world.
DREW CAREY: The rumors are true! TV star and native born Ohioan, Drew Carey has come out in support of the Dead Schembechlers in thier fight against the scUM. Drew Tweeted the following to Bo Biafra: EVERY Ohio State fan should BOW DOWN to the Dead Schembechlers. I have your sticker on my car! :)" Thanks to Drew for the support! You can check out the original Tweet here. Follow him at twitter.com/DrewFromTV.
THREATS: Chatter level has been high among intercepted Wolverine communiques that the band has a "security leak" in their midst. The band is not concerned with Bo Thunders saying, "Fuck it. They been trying to kill us for twenty years. Let 'em come!
MERCHANDISE: The band's merchandise is now being handled by Dirtbag Clothing. You still go thru this site but it links to an acutal professional company that mails things out instead of you waiting for the band to send from a garage! Click here to hit it.
---


Outpost of New Wolverine Order: The Rock n Roll Hall of Fame in Cleveland, OH
As the Dead Schembechlers and their legions of fans gather to celebrate the 20th anniversary of the release of their debut single"I Hate Michigan," it will be without the knowledge that the band will be inducted into the Rock and Roll Hall of Fame.
"It's a fucking travesty that we, the Godfathers of the Wolverine Hatecore scene, will not go in on our first year of eligibility," raved Bo Biafra. "It is clear the slimy tentacles of the New Wolverine Order now control the Rock Hall and that there is no way we will ever be included. I will personally rearrange the dental work of Jann Wenner if I ever get that Michigan loving scUMfuck within arm's length," he said in reference to the Rolling Stone publisher who controls the Hall's gateway.
"We wanted it to happen for our fans and not ourselves," added guitarist Bo Thunders in between huffs of airplane glue. "For twenty years they have supported us because we are plainly and simply the most influential band in the world. It's not bragging cause it's true. That an Ohio based Hall of Fame must kowtow to the International Wolverine Conspiracy is insane. I would be filled with rage if I wasn't so heavily sedated." He then chugged a bottle of NyQuil.
---


OSU AD Gene Smith's support of Rivalry changes have(L) thrown band 20th Anniv plans into chaos(C) and may lead to his burning at the stake(R)
The year of 2010 was to have been a massive 20th Anniversary celebration for Dead Schembechlers. However, The International Wolverine Conspiracy has once again set in motion evil plans to upset the band's apple cart and destroy Buckeyes everywhere.
"Divide and conquer is their game," ranted band leader Bo Biafra. "They cannot beat us on the field and so, like the cowards they are, try to change the rules of the game and destroy the foundations of The Rivalry with the seed sown in our won ranks. I never thought I would ever live to see the greatest tradition in the history of mankind treated in such a shabby manner. That one of our own would support any changes whatsoever is blasphemous." Biafra was referring to Rivalry change support by OSU Athletic Director Gene Smith. Biafra continued, "That Mr. Smith favors any changes opens him to official charges of heresy against Woody himself. The penalty is death. He may find himself burned at the stake if he does not repent though Woody may show him leniency and allow him to only be stoned to death. North Division? South Division? What is all this bullshit? It's all driven by greed and to let Michigan off the hook for their dismal failures."
The Rivalry changes are not the only fly in the ointment. The loss of radio legend and Ohio freedom fighter Andyman along with high level political support of the scUM also has the band reeling. "The full story of Andyman's covert operations in Michigan that he performed under the guise of family vacations may never be declassified but his work was monumental," said Biafra. "We also need to face that Federal level political support of Michigan is now off the chart. Where did Sarah Palin begin her book tour? Ann Arbor! What did Obama name his dog? Bo! They don't even try to hide their work on behalf of The New Wolverine Order. We are in grave danger."
The band will soon make their plans known for their 20th Anniversary Hate Michigan Rally to be held in Columbus on Friday November 26th. Biafra hints it may be their final performance. "It's all become too much the last several years," he lamented. The physical and emotional toll is staggering. Maybe we blow it out one last time, fire the last of our surface to surface missles at the incoming scUM fans and call it a day."
Keep watching this site for more. Plus, follow Bo Biafra on Twitter here.
FYI: the site is about to undergo a massive rebuild. We are also in the middle of revamping our merchandise sales to make things quicker and smoother.
---


Andyman with a non-Ohio muscian (L) A promise from the band (C) and Andyman helping the kids(R)
The members of Dead Schembechlers are stunned and grief stricken at the untimely death of their dear friend Andyman. The longtime CD-101 air talent and Program Director was drowned while on vacation with his family in Michigan. He was 42 years old.
"He was the strongest supporter we ever had in radio. More importantly, he was our friend. It is a terrible, terrible loss for the city of Columbus, the state of Ohio, the music world and most of all for his family whom he loved dearly," said the band's Bo Biafra. "While most people in radio are hanging on by the skin of their teeth and willing to suck the corporate prong, Andyman was one of the last real rock radio rebels who was absolutely fearless in what he would play and say. He was one of The Last of Mohawked Mochicans and we will miss him very much. We are ready and willing to do anything we can to help Andy's family. They have our deepest sympathies."
While it has been announced that Andyman was vacationing in Michigan it is believed that he was a longtime covert agent who often crossed the border into the North Country for paramilitary operations against the Wolverine Conspiracy. "Andyman labored long in secret against the scUM," said Biafra. "He was a true hero and one of the bravest to ever wave the flag of the Buckeyes Nation."
CD-101 has a page regarding Andy here. Please continue to watch it for information on how you can help. The band will be donating a portion of the proceedings from the 2010 Hate Michigan Rally to assist.