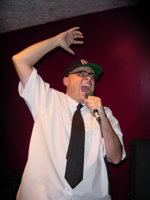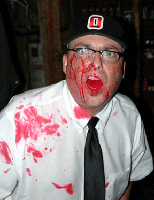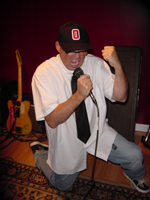 BO BIAFRA (vocals/lyricist) began his career in local Columbus outfit Wolverine Deathcamp before moving on to stints with The Anti-Bowhere League, Stukas Over 23, BOFX and Tom Brady's Nutsack. He also did a short turn in the Socialist leaning Comrade Moeller and the Boviette Union. In addition, Bo Biafra has worked regularly as a producer including records with power pop band Fountains of Lima ("Stacey's Mom Is A Wolverine Loving Whore"), dance faves The Elvis Grbac Syndicate ("The Neutron Man Dance") and riot grrl group Shelley Graf Zeppelin who charted briefly with "I Wanna Rip Out Karen England's Heart and Pee Into the Gaping Wound." Biafra directed and edited the band's first ever video "Bomb Ann Arbor Now" which garnered two YouTube Honors awards. He also created a series of videos for the Sandusky band You Will Know Us by the Trail of Dead Wolverines. When asked why he became enamored of the Wolverine Hatecore scene he explains, "I once met Bo Schembechler when I was a child. At the urging of my dad, I asked Bo for an autograph. Instead of signing the paper that my small hand proffered, Bo doused me in kerosene and set me on fire. He was pure evil and my life is dedicated to beating back the dark forces that he has come to represent." In 2007 when the strain of the band became too much for him he was whisked away to the Athens Lunatic Asylum where he penned several musical projects based on actress Zooey Deschanel. His lunacy inspired the song "Shine On You Crazy Buckeye" by Ohio group Pink Lloyd.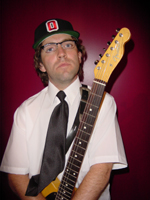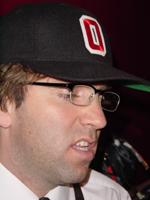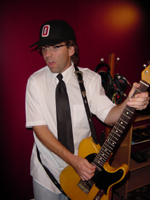 BO THUNDERS (guitar/backing vocals) first came to hate Michigan and all it stood for when he was kidnapped by Wolverine Boosters as a child. He was sold into slavery and forced to make U of M snow globes at a sweatshop in Flint. He escaped and was soon the hottest guitarist on the scene in bands like Horse Shoe Army, Bogazi, Burning Ann Arbor, Millions of Dead Wolverines and Mission of Saginaw (who were also briefly known as Michigan of Burma). Bo Thunders has also worked as a songwriter for other groups including metal band Botallica ("For Whom the Victory Bell Tolls," "Buckeye of the Beholder" and "Enter Neutron Man") and hip hoppers The Beastie Bo's ("No Sleep Till Lima"). As a session guitarist he has sweetened the sounds of bands as diverse as Woody's Panzers and Fine Young Wolverine Cannibals.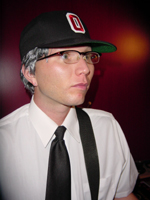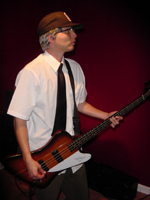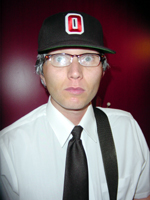 BO VICIOUS (bass/backing vocals) is one of the most feared musicians on the planet. He once chewed the tires off of a car because he heard a rumor that it had driven thru Michigan. At the age of 4 he ran away from home, hitchhiked to New York, found the set for Sesame Street and beat the living shit out of Big Bird. Why, you ask? Simply because the program that day had been brought to him by the letter "M." His deep seated hatred for the Michiganites stems from the other members of his family being taken by Wolverine players before a game in 1984 and cannibalistically devoured by them. His previous musical stints include time with BoMeansNo, The High Street Stranglers, Archie's Army, Spirit of '55, Ghost of Yost and Sour Bo-vine Milk. Bo Vicious has also worked as producer with the likes of nu-metal band System of A Walt Downing, death metal band Bo to Hell and ska band The Mighty Mighty Bo Tones. In 2007, frustrated by the inactivity of the group, he moved to Seattle to open a chain of German breakfast cafes called Luftwaffle.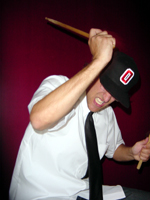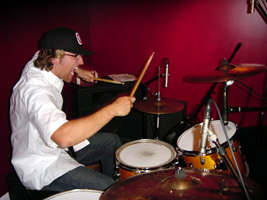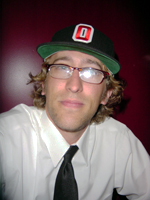 BO SCABIES (drums) began his musical run in Christian Wolverine Hatecore groups Cross of Woody and WWAD (What Would Archie Do). He moved on to more secular music with bands like Bo Toxic and the Injections, Sink Michigan Sink, The New Bo Turks, Golden Pants Shower, The Lloyd Carr Crash, and No Bo No Mo. It was The New Bo Turks who appeared on local charts with "Block M Nazis Fuck Off," "O.S.U.ber Alles," and "Bennie and the Oosterbaans." He also drummed on much of the "Why Don't You Michigan Sluts Toss Your Batons Up Your Asses" compilation. In 2007 he began work on new songs with his old band mates in Cross of Woody including "Even Jesus Hates Michigan" and "Smite the Michiganite."